This is our Mediterranean style stuffed pasta. This is another one of our pasta varieties that has so much flavour, it can be enjoyed with just a little Parmesan and olive oil. We combine freshly crumbled Feta cheese with the great tasting Kalamata olives; add some Parmesan, Mozzarella, herbs, spices and wrap it in parsley flecked egg pasta to produce this Mediterranean delight. We first began producing this variety using black olives but found the Kalamata produced a much more flavourful pasta.
Retail Package Size: 350 grams
Stuffed Pastas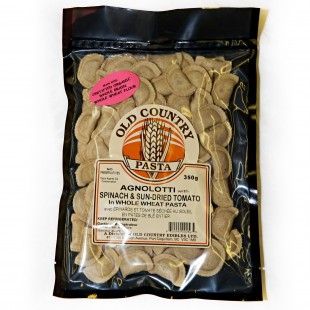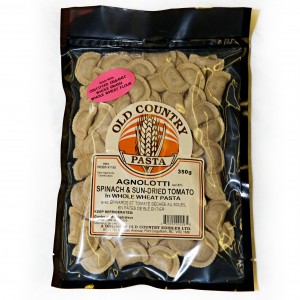 Old Country Pasta manufactures a wide variety of quality stuffed pastas. The many different varieties and shapes we offer will create endless opportunities at your dinner table. We create all of our fillings in-house and the wide variety we produce is left open to our imagination. The fillings we produce include a variety of quality cheeses, garden fresh vegetables, quality beef & poultry, and an assortment of superior spices. We then take our tasty fillings and wrap them in our thinly pressed pasta sheets. Pick some up today and let your adventure in dining begin!!
OUR STORY
Old Country Edibles is a family owned business, manufacturing and distributing fresh pastas, and related products throughout the Lower Mainland, Whistler, Vancouver Island and the Interior. Old Country was taken over by the Plezia family in 1994 and inherited the name "Old Country Edibles Ltd". We have since changed all our packaging to read "Old Country Pasta" as it more defines who we are. We started out in a very small facility on Powell Street in Vancouver, producing only our own flat pastas. At that time, we were servicing mostly restaurants, hotels and doing very little retail business with the Supermarkets.
After a couple of years, we moved to a new location in Vancouver at Hastings and Skeena. We became an active member of the local community, taking part in community functions and helping out local schools with fundraising programs. We soon began to produce  our own line of stuffed pastas and eventually added many new varieties to our product line. We began to really make some headway in the retail market with our new products, which resulted in that facility becoming much too small.
Soon after, we moved to our current facility in Port Coquitlam, British Columbia. Over the past few years, we have upgraded our equipment, added additional staff and really focused our efforts in producing our trademark  quality fresh pastas.
Our concept is very simple: We make everything from scratch and in small batches, using only quality ingredients which in turn produces quality products. One marketing tool which has proved to be very effective for us is "word of mouth". We are constantly getting positive feedback from regular and new customers. This seems to have paid off, resulting in many new customers and having our products carried in some of the better know Natural/Organic stores